8 Stunning DIY Home Décor Projects that Gave Vintage Car Parts a Second Life
Blog
Sep 20th, 2021
Have you ever wondered to yourself "What could I possibly do with that rusty old car sitting out in my garage?" Turns out, a lot! With the right vision, that disaster-on-wheels has the potential to become an invaluable treasure that will undoubtedly be the envy of your friends and family.
Up-cycling old or vintage car parts into unique home décor makes for the perfect blend of industrial automotive style, and contemporary art. These home décor ideas would make for spectacular accent pieces in any upscale loft, macho workshop, or simply inside any auto-lovers home. Creative projects like these rescue parts from iconic models that have been abandoned to rust in scrapyards, in order to rewrite their history.  The timeless allure of vintage cars has inspired these 8 incredible DIY projects you won't believe.
Blurring the lines between art and versatility, this first piece of auto-décor is an absolute showstopper--A repurposed car engine coffee table which was lovingly crafted from an authentic Carroll Shelby 427FE engine block, sitting on top of a 100-year-old, antique barn-wood base. The pistons are openly displayed on both ends of the engine block, with intricate pipe work across the wooden foundation. A tempered glass top shows off the spectacular composition below, as luminous lights added to each cylinder create a captivating glow from underneath. Discover how something like this is made, here!
2. Cylinder Wine bottle Rack
Hold my drink—or better yet, set it down! Once the beating heart of a luxury Mercedes, this high-performance aluminum V8 engine block now serves a new purpose as your household conversation starter. Gracefully standing on end, this beautifully painted end-table is equipped with an innovative cylinder wine bottle rack, as well as remote-controlled LED lights that make this piece of décor the center of attention any time of the day. Who knew there was such extensive versatility to the engine block? If you'd like to see how to make something similar, check out this video!
Take a guess as to how this piece of automotive furniture came to be-- That's right, it's the sun-damaged hood of a Cadillac that has been transformed into a beautiful, cherry-red sheet metal patio table. This contemporary piece of decor is refined with stainless steel hardware, powder coated with automotive grade clear coat which will help ensure this patio table will stay looking beautiful indoors or outdoors for years to come. You can learn a little more about the process here. Don't get rid of that automobile covered in oxidative spots just yet!
The ideal furniture is designed with both practicality and beauty in mind, so these ingeniously crafted twin end tables serve dual functions. Cleverly comprised of old American V8 engine crank shafts and multi colour hard-wood tops, these stylish pieces are worthy of any automotive enthusiast's interior. Find out how to make your own crank shaft end table, by clicking here!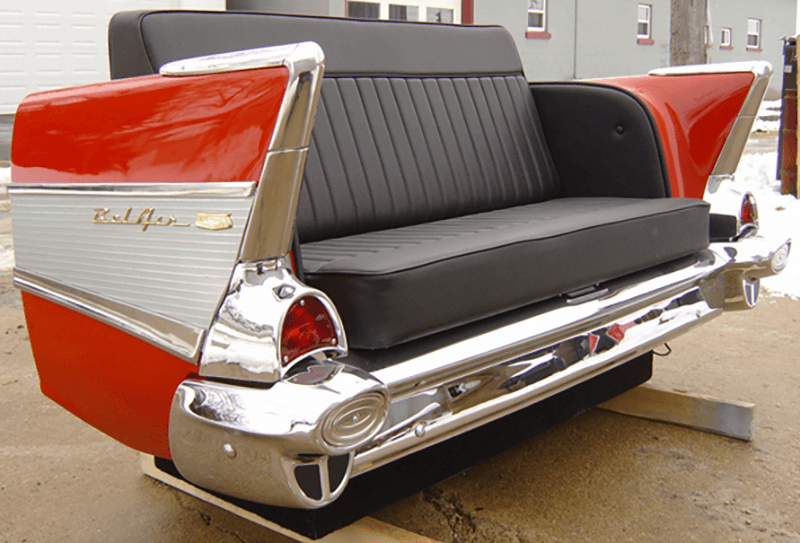 Next stop, your living room! Wouldn't you love to sit back and share a soda-pop with your darling in this incredible 1957 Chevy Bel Air rear end loveseat? With a candy red exterior and beautiful leather seats, this piece of furniture feels like it drove straight out of a vintage Americana diner-- and is a piece of decor that will certainly encourage dreams of simpler times. Check out what it takes to DIY your own car boot sofa!
Simple and elegant, something that anyone could do with the right materials! This tire planter can easily lay low to the ground or be charmingly hung outside. Any old tire would do-- you can paint them in vibrant colours or wrap them in hemp rope for a rustic bohemian look. Now recycling those old tires out in the backyard looks kind of fun and easy, huh? Discover step-by-step instructions to make one yourself, here!
With a whole new take on mood lighting, this amazing lamp was created using an automotive piston, rod and gears. The shade that brings it all together is an Edelbrock Air Filter, giving off just the right amount if ambient light. This delightful piece of decor is sure to compliment any man-cave, office, or home! Check out this instructional video on how to make your own!
Pull up and have a drink at this unique vintage tailgate bar-- It would be sure to keep your friends buzzed and buzzing at your next get together. Skillfully constructed from the tailgate of an old Chevrolet pickup truck, this hanging bar establishes the perfect combination of form and function. Drinking and driving is a bad idea, but this floating bar top brings the tavern right to you! Give this tutorial on how to create your own floating tailgate a shot, here!
Have you ever made something useful out of old automotive parts? Let us know!