All About the Hustle: BMW x Artist Joshua Vides
Blog
Jan 3rd, 2022
Artist Joshua Vides is the man of the hour, working at breakneck speed, and jumping from one successful project to the next. Now, fans will be able to find his work on a bespoke, hand-painted 1-of-1 edition of the BMW X4 M Competition, along with a limited edition of merchandise and apparel. We sat down with the artist and entrepreneur to understand what drives him – and where this drive might take him next.
The first thing you might notice about Joshua Vides is that he is, for lack of a better word, grounded.
He talks passionately and vividly about his work, his inspirations, his studio and his upbringing in Rialto, California. As he does so, he carries with him a focused calmness, but there is nothing basic about his demeanor. His words are sharp and to-the-point, and he doesn't seem to need to think long about his replies, leaving you with the feeling that it's all in there – somewhere in his mind, simply waiting to be let loose.
We first meet outside Munich in a small tattoo studio. Vides has journeyed from his own creative studio and home in Los Angeles as a specially invited guest by BMW. He has chosen the occasion to add a special tattoo to his already heavily adorned arms: the BMW logo.
This is no coincidence. Vides is a professed fan of the brand, and visiting Munich for the first time, he wants a memory that lasts.
"I grew up in a poor neighborhood, and seeing a BMW back then was very rare. I remember that it made the day special, if you'd happen to see one driving by," he tells us, as the tattoo artist's needle draws the first fine lines, just above his wrist, where the logo will now sit forever.
"I come from an immigrant family. My mum was studying to become a nurse, and my dad was a truck driver, so we didn't have a lot of money. At some point in the early 2000s, my mum graduated, and we started earning more money. One day, they told us we were moving to a nicer neighborhood, and that we were getting a new car: a BMW. I couldn't believe it," he says.
That first BMW, a 2005 BMW 5 Series, would lay the foundation for a life-long infatuation with the brand. Today, at 32, he owns several himself, including an Alpine White M3 (E46) – a dream car for any BMW enthusiast.
As the tattoo artist put downs his needle, we get a first look at the logo on Vides' arm. He has chosen a flat, all-black rendering. In this way, it squares perfectly with his own work and the bold style that has made him an in-demand name with streetwear fans, sneakerheads and gallerists alike. Black and white dominates, and the spill-over from Vides' early forays into graffiti is obvious. Still, he reveals, his first inspirations came from elsewhere: childhood cartoons.
"Seeing a BMW back then was very rare. I remember that it made the day special if you'd happen to see one driving by."- Joshua Vides
I was always fascinated by cartoons from an early age," he explains, as we sit down to continue our talk in a small garden in downtown Munich. "Looney Tunes, The Simpsons, Garfield, all of that stuff. I always loved how you could instantly recognize the style and the world around it. Take Bugs Bunny out of a Looney Tunes cartoon, and you'll still be able to see right away that it's a Looney Tunes cartoon. I became infatuated with the idea that I could create something like that, something that you can instantly recognize, as my own world."
Fast forward till today and Vides has very much managed to do exactly that. His first smash hit were a pair of Nike Air Force 1s, which he painted in his signature style and posted to his Instagram account. The post blew up, the phone started ringing and soon he found himself in negotiations with Nike's Jordan sub-brand for a collaboration.
"This was a real moment," he says. "I realized that I had created something that people really like."
From here, there was no slowing down. Vides has a reputation for being prolific, working with an energy that is largely unparalleled in the industry. There literally is no slowing down. Collabs and drops with brands like New Era, Converse, Fendi and Woolrich bear witness to this, and to his success. And when he is not collaborating with brands, his personal artwork remains in high demand for collectors worldwide.
I think what makes it work so well is that, in a sense, people have a feeling they could've done it themselves. Whether they feel good or bad about it, there's an energy there, and that's new," he says, when asked what he thinks it is about his flat and very graphic monochrome expression that resonates so well with fans and critics all over the world.
Still, success will also often be accompanied by the pressure of reinventing oneself, and not least, to keep curious. The world has seen many artists, who have enjoyed immense popularity, but have fallen into the trap of thinking that a simple recipe will last forever.
"I am very much aware that I can be forgotten tomorrow," Vides says. "But I am also not geared to do the same thing forever. I have been good at understanding what people want, and once I feel like I have done enough of something, I move on to the next. I am lucky enough that people reach out and want to work with me – like BMW. So, I don't have problems finding new stuff to do."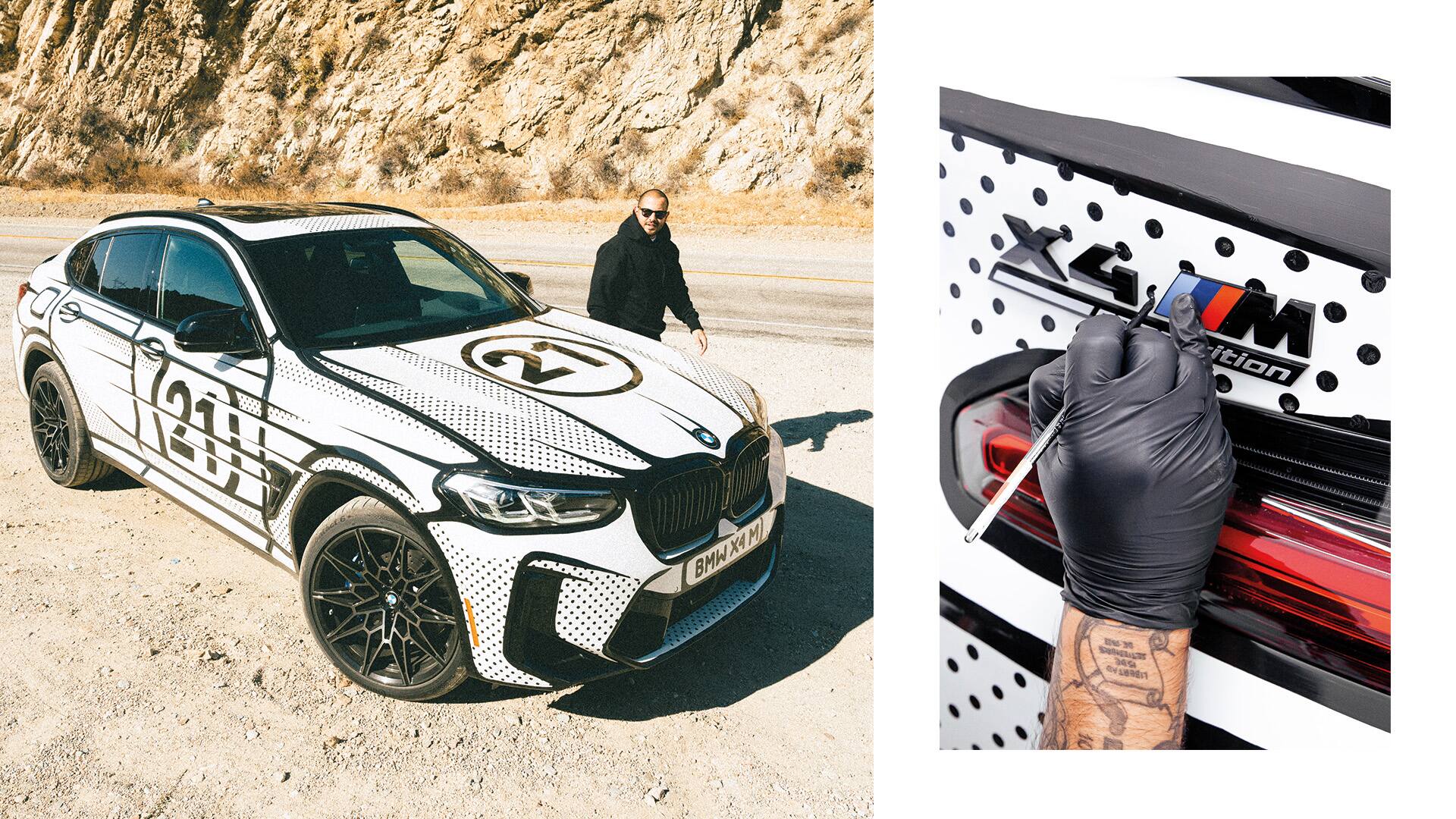 His latest project is bigger than usual. And given his own background and love affair with BMWs, it is also fair to say that it is very special.
Applying his signature style during weeks of meticulous work and hand painting details, Vides lifted the curtain on a special edition BMW X4 M Competition, a truly unique rendition of a vehicle that will now be the only one of its kind in existence. Vides also collaborated with BMW to create his own version of the same logo that he now carries on his arm. This in turn became the inspiration for a full line-up of limited-edition merchandise, including hoodies and t-shirts, mugs, rugs, badges, bandanas, plates, and much, much more, available exclusively through his own web shop.
And it is exactly here we find Vides true genius: as a representative of a new kind of artist, he has from the get-go managed to strike the perfect balance between artistic expression and commercial grit. As he moves effortlessly between projects, he also does so between the art of creation and the art of the business that allows him to pursue his dreams; new projects are teased on social media to hundreds and thousands of followers, fellow artists with massive reach help bang the jungle drums when a new project is dropping, and the rest is good old word of mouth. This knack for tapping into today's capsule drop mentality and collectors' zeitgeist is remarkable. But more importantly, he knows how to stay ahead of the game, and how to never lean back, as he carefully selects new partners and projects to invest his energy in. It's a recipe for success perfectly tailored for today's market, and his is refined to perfection. It's all about the hustle and Vides knows this better than most.
Back in the Munich garden, we prepare to wrap up. Over the next days, Vides has an intensive program lined up for him as a special guest to BMW's hometown, including a date at the racetrack with a brand new BMW M3 Competition on his last day in town. But before we bid our goodbyes, there's time for another Munich ritual: a beer. We run around the corner to pick up a few bottles, and cheer in the late summer sun. Vides is visibly excited – about the day, and what's still to come. And somewhere under his sleeve rests the freshly tattooed BMW logo, as a testament to his latest creation: an intimate and personal reminder of where it all started.