Discover Japan x BMW: With Textile Artist Jun Tomita
Blog
Aug 26th, 2022
Saga Koshihata, a secluded area of Kyoto, is a place that fascinates and inspires Jun Tomita, a dyeing and weaving artist. Jun Tomita is fascinated by this place in the satoyama landscape and has put his roots down here to create his own works. On an early summer day in search of new momentum, he takes an inspiring journey into traditional craftmanship of the past and that of the future in a BMW 320d xDrive M Sport.
The protagonist: Jun Tomita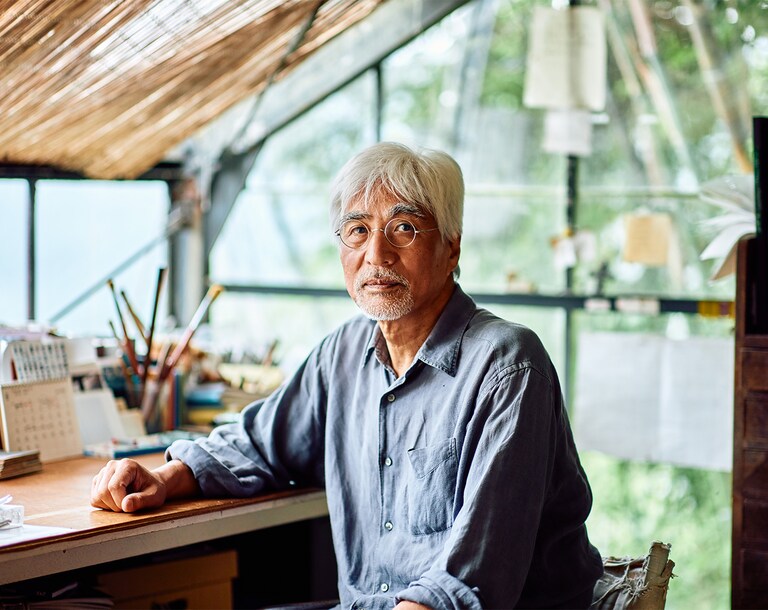 Jun Tomita is a dyeing and weaving artist, born in Toyama Prefecture in 1951. He dyes and weaves his own threads to produce traditional Japanese obi belts, traditionally worn with kimonos, as well as rugs for the wall and floor. He returned to Japan after studying and training in Australia and England and set up his home and studio in Koshihata, west of Kyoto in 1982. His tranquil and multilayered style, reminiscent of paintings, is highly acclaimed in Japan and abroad.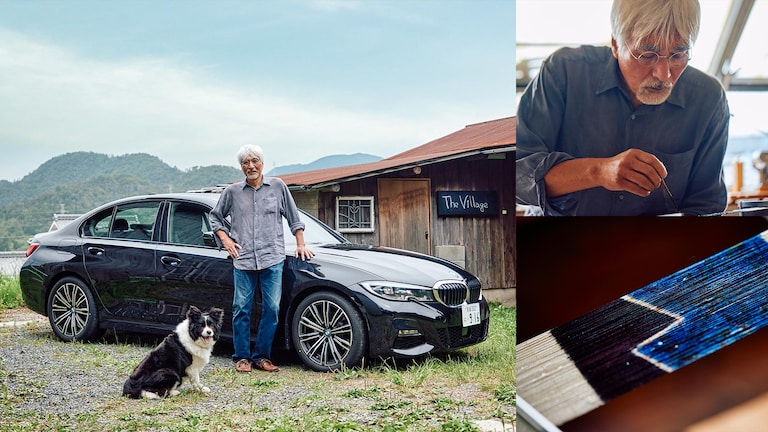 Jun Tomita is a dyeing and weaving artist based in Kyoto
Saga Koshihata is located at the western edge of Kyoto. It is best known for its satoyama area – that is, the area between mountain foothills and cultivable lowlands – with many thatched houses and a cool climate where buckwheat and grapes are grown. This is why the area is also called the "Shinshu of Kyoto" (after the Shinshu area of outstanding natural beauty in Nagano prefecture, west of Tokyo). In a village in the heart of idyllic Satoyama, an area also considered as Japan's natural landscape, the production base of Jun Tomita, a dyeing and weaving artist, can be found. He has been creating textiles since 1982, his rich textures and tranquil colors utilizing the traditional kasuri technique. His unique masterpieces have won admiration and recognition far beyond Japan – including from Apple founder Steve Jobs, who purchased two of his tapestries.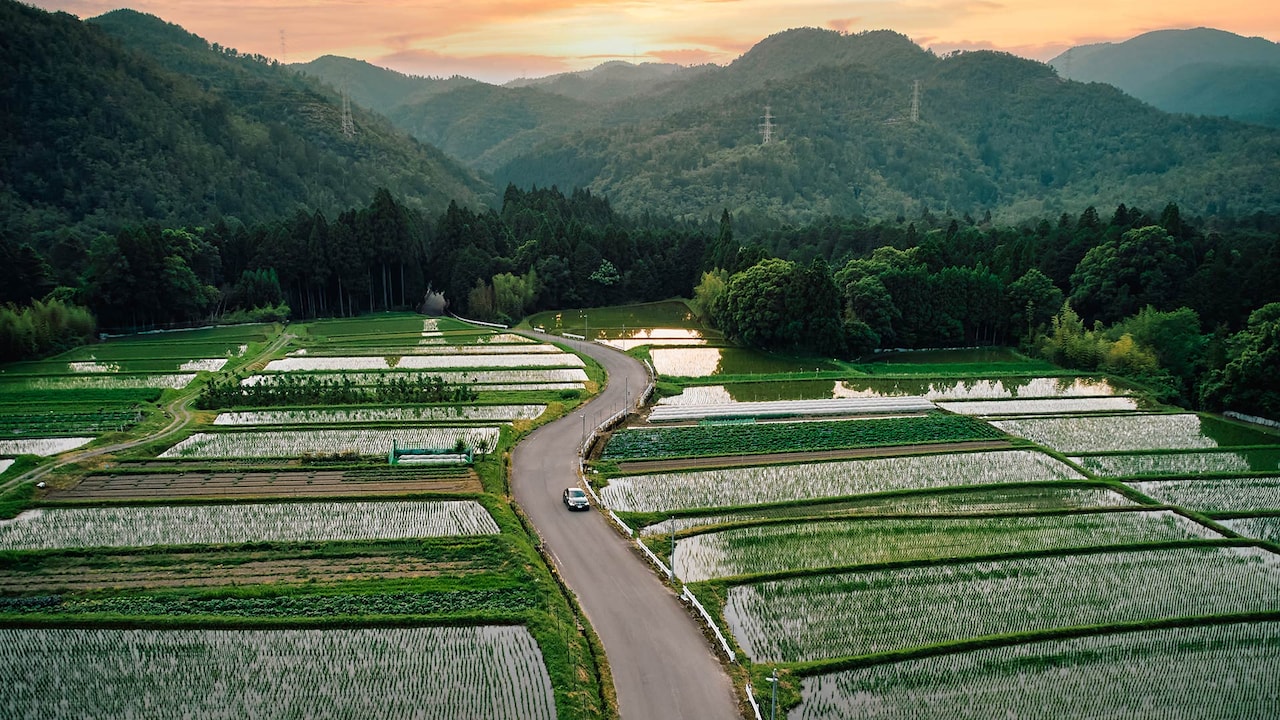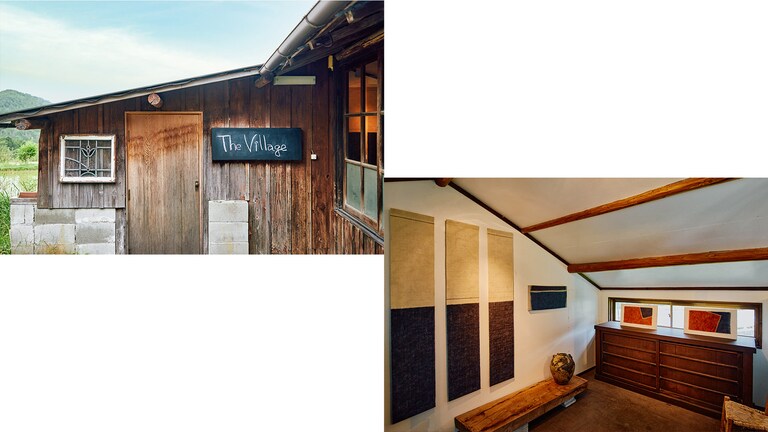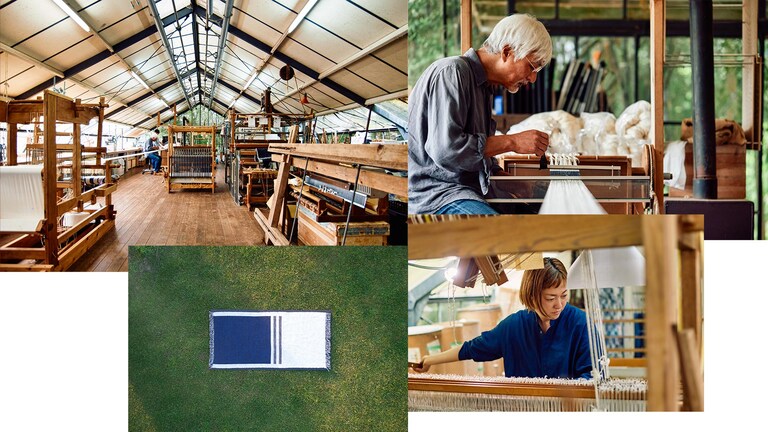 The open-plan studio has a green past: before the renovation, it was a greenhouse for cultivating cyclamen. The studio is spacious enough to be able to work on, for example, a "9 shaku" – an obi belt about three meters long for kimonos. There is also a yarn-dyeing workshop at the back of the studio. Mayo Horinouchi, who has been working in the area since 2009, is an up-and-coming artist who specializes in shawls made mainly of wool.
Visit the workshop and home of Honda Silk Works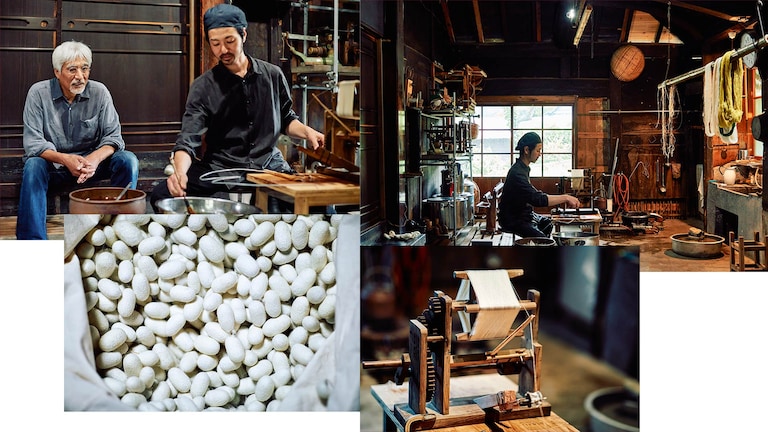 Honda and his wife started their dyeing and weaving career after working as sericulture farmers. He trained under Tomita for two years starting in 2016 before setting up his own business – Honda Silk Works. Feeling at home in Koshihata, they transformed an old, thatched house into their workshop and residence. They produce textiles in harmony with nature by extracting yarn from cocoons and dyeing the spun yarn with essences from plants and trees.
When founding "The Village", however, teaching and sharing traditional weaving and dyeing techniques was not the only thing on Tomita's mind. Rather, it was to be a reflection of the meaning of life. Life, he says, is about doing things: "Work is life itself, and 'play' and 'aesthetics' both feature in our daily routines. Working in the creative village is meant to awaken sensations felt during encounters with nature and during production. A deeper awareness of the environment." The very act of gathering such impressions provides inspiration, which is why Tomita is setting off for the next stop of his journey with the BMW 3 Series.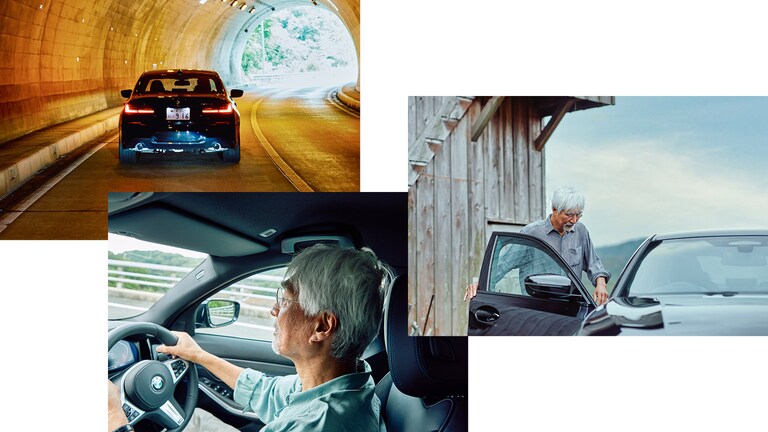 Departing from "The Village" and driving to Kayabuki-no-Sato
Tomita steers the BMW 320d xDrive M Sport through the richly varied landscape. Forest-lined stretches perfect for relaxed gliding alternate with hills and curves brimming with perspective. The BMW 3 Series is in its element – and Tomita likes the dynamic weave of sportiness and comfort: "The vehicle is responsive and smooth when I press the accelerator. Moreover, its stability on mountain roads radiates the same sense of calm as my works of art."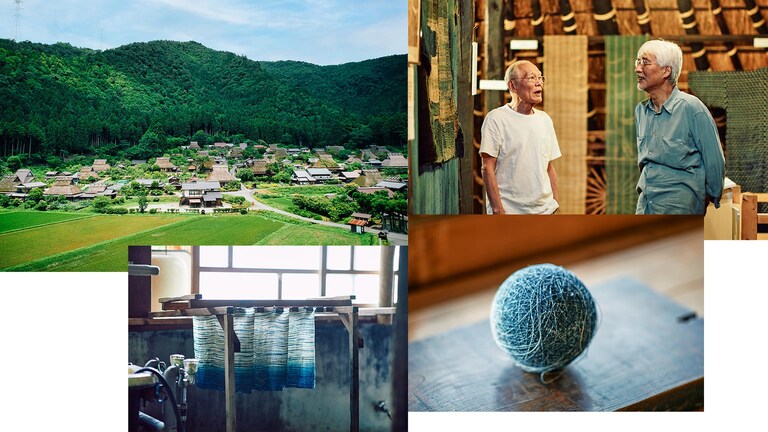 The Indigo Art Museum in the village of Kayabuki-no-Sato
The next destination on this journey of inspiration is the tiny Indigo Art Museum in the village of Kayabuki-no-Sato, north of Kyoto. Jun Tomita wants to learn more about special dyes there from Hiroyuki Shindo, an indigo dyer he has been friends with for 50 years.
This private art museum exhibits a valuable collection of indigo dyes collected in Japan and abroad by Hiroyuki Shindo. Visitors can experience the deep and gentle charm of indigo in an old thatched-roof house. Time it right and you may even get the chance to see the dyeing process in the adjoining workshop for yourself. "Shindigo Ball," one of Hiroyuki Shindo's representative works, is also on display.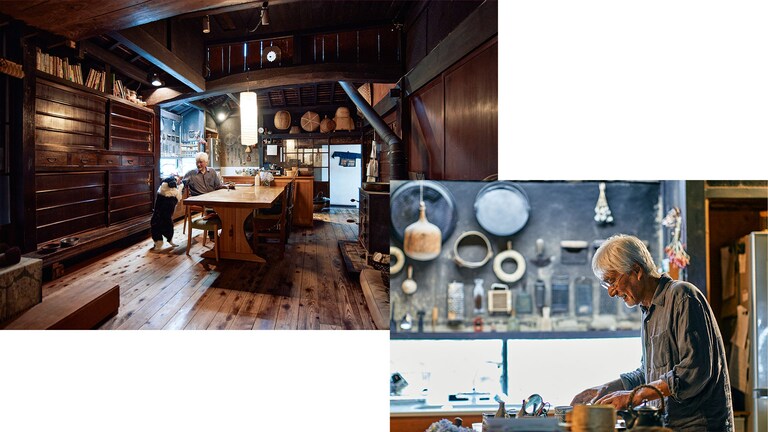 Last stop on the tour: a break at Jun Tomita's home
With a trunk packed full of inspiration, Jun Tomita then sets off on his return journey after visiting Hiroyuki Shindo. We accompany him home. When he moved to Koshihata 40 years ago, this house was still very much run down – before it was gradually renovated with loving attention to detail. The kitchen and other handmade objects give the house the flair of a folk art museum. And that fits very well; after all, it documents a life dedicated to the harmony of nature, dyeing, and weaving. A lifestyle driven by a special motor: passion and enjoyment.