Goodbye BMW i3: A Love that ever gets Rusty
Electric
Jun 28th, 2022
To mark the end of BMW i3 production, we look back on over a decade of exceptional automotive history. No one knows more about this period and the first all-electric production car from BMW than Wim Van Bogaert. A passionate driver of electric vehicles, he has clocked up more than 500,000 kilometers in several BMW i3 models over the past decade.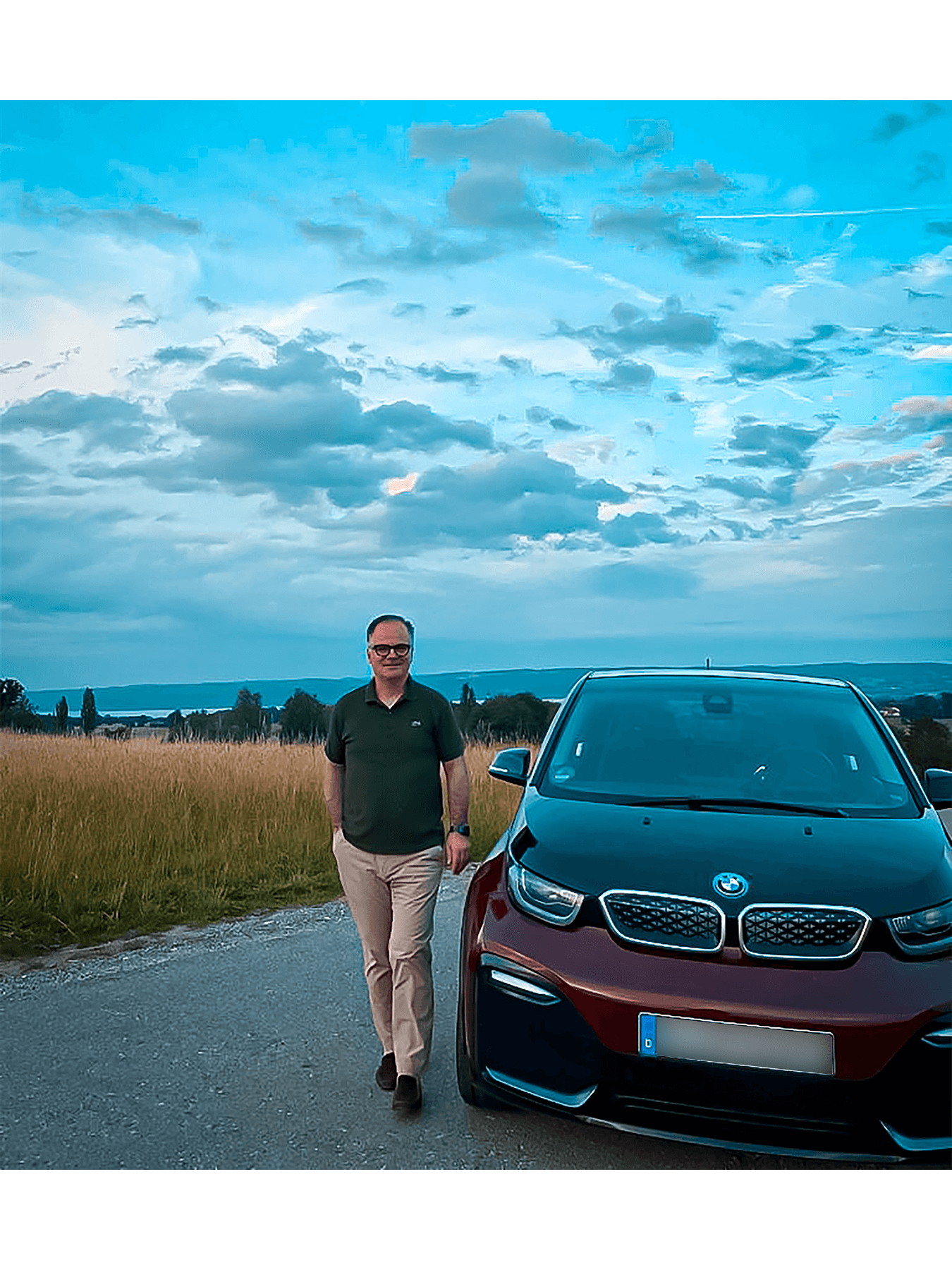 At the time, BMW marketing expert Wim Van Bogaert was one of those involved in coming up with the idea of filming and posting this driving pleasure. The Belgian has worked in various areas in Central Marketing at the BMW Group since 2001, where he has been responsible for trade fairs and events, innovation management, retail marketing, and digital and performance marketing, among others. In 2013, he was part of the team responsible for the global BMW dealer network premiere of the BMW i3. He had got to know the BMW i3 long before the first customer rides and fallen in love with the visionary character of the first all-electric production car from BMW. Van Bogaert represents the many intellectual mothers and fathers of the BMW i3, all those involved in this project. And also the countless fans of the e-car outside the company.
Even before series production started, Van Bogaert had already driven short distances with prototypes, talked to designer Benoit Jacob, met project manager Ulrich Kranz, and had technical details explained to him by engineers such as Jens Halbedel. "Developing a mass-produced electric car from scratch was a technological gamble in 2013. Back then, there were only niche products and tinkered solutions by ecos for ecos."
Project i – how the BMW i3 story began
With this in mind, it was indeed a courageous decision by the BMW Board of Management at the time to embark on a billion-euro electromobility project. After all, many clocks were reset to zero for the development and production of the BMW i3. Suddenly, the most valuable component was no longer the engine, but the battery. Yet BMW was and is the epitome of high-class combustion engines (➜ Read also: 12 engine milestones).
And so, to begin with, it was an exotic troupe of strategists, electrical engineers and chemists led by visionary Ulrich Kranz who tinkered around, hardly noticed, under the "Project i" codename (➜ Read also: The success story of a vision) in shadowy corners of the BMW Group headquarters. Kranz made a conscious decision to draw on the knowledge and talents of BMW experts to design the BMW electric car. He called on BMW lightweight design experts from the Landshut plant to find a way to compensate for the high extra weight of the battery. Together, they achieved the seemingly impossible – an electric vehicle without the added weight of a heavy battery. This astounding feat is unmatched even 10 years later. All current electric vehicles weigh much more than their conventionally powered counterparts – several hundred kilos in some cases.
Electric vehicles enable new technical layouts
By the time of the first design study of the BMW i3 at the IAA 2011, the eyes of not only all BMW employees, but of the entire automotive world were focused on Project i. As one of those responsible for the BMW booth at the IAA, Wim Van Bogaert recalls: "At that point, everyone realized that this project was revolutionary. Designed from the ground up, battery-only cars allow for a different technical layout, as the BMW i3 showed from the very first glance. Here was a completely new vehicle concept, modified proportions and an unconventional design both for the exterior and interior. It felt like looking through a keyhole into an exciting future."
Just under two years later, the time had come for Van Bogaert to take delivery of his first BMW i3 from the new series production at the BMW plant in Leipzig. Even after almost 10 years, he vividly remembers his first impressions, which he describes in the BMW vernacular: "No noise, none of that vibration or harshness you get with an internal combustion engine." The first few weeks in the BMW i3 were like behavioral therapy for Van Bogaert: "I had driven an emotionally challenging internal combustion engine before. It kept whispering in my ear: 'You're faster than them. Go on, hit the gas, overtake them.' The BMW i3 was the complete opposite. Still emotional, but in a quiet way. Its composure has had a lasting calming effect on my driving to this day."
Van Bogaert thus proves the theory of the then BMW i3 designer Benoit Jacob, who deliberately fitted the interior with restrained and natural materials, to be completely right. Together with its elevated seating position in an airy interior with no transmission tunnel and with the dashboard positioned far forward, the interior was designed to put the driver completely at ease. A strategy not without its ulterior motives – as a calm driving style conserves the battery and thus extends the range (➜ Read also: Electric car myths). After all, 2013's battery technology offered a measly capacity of just over 20 kilowatt hours enabling a maximum range of 160 kilometers, depending on the driving style.
Long distances bring new charging experiences
As well as a new sense of calm and a reassuring driving style, Van Bogaert discovered other special features of battery-powered vehicles during his first drives in the BMW i3: "My wife and I have been going on vacation to Merano for many years. On my first drive with the BMW i3, I chose the scenic and winding route over the Stelvio Pass. It's 75 kilometers downhill from the top of the pass to Merano. By the time we got there, the battery was completely full again due to recuperation while driving downhill. Since then, I've got to know that a mountain acts like a charging station in an electric car."
Despite this positive charging experience, Van Bogaert, like many customers after his first BMW i3, chose a model with a range extender, in which a small gasoline engine acted as a kind of generator to give the battery additional range. This clever idea simplified everyday life, as there were very few charging stations in 2013. Moreover, these stations were usually located in cities and made trips along country roads or highways something of an adventure. After all, refueling an electric car took a long time, there being no spare can (➜ Read also: All about how to charge an electric car).
In view of the lack of recharging infrastructure and the short range, developers and designers initially recommended the BMW i3 as the preferred vehicle for metropolitan areas. This is where the compact electric vehicle still feels most at home. Its passionate supporters love the local emission-free driving in noisy and polluted inner cities. Other features such as the minimal turning circle, rocket-like sprints, compact size despite its lounge-like interior, and the permanent recovery of electrical energy make the BMW i3 the ideal city partner.
A pioneering spirit makes even long distances feasible
The conception of the vehicle as a vehicle for large cities has not stopped Van Bogaert from regularly making long-distance journeys over the past 10 years though – it would hardly be possible to cover around 50,000 kilometers a year otherwise. When it came to family travel, however, Van Bogaert's wife and two children did not feel the same pioneering spirit as their electrified dad. Among other things, their first family trip from Munich to his Belgian homeland was not a whole lot of fun. Dismissing concerns about the long distance and low electric range of the first BMW i3, the family man said: "This is the future, and we're in it." Van Bogaert's euphoria was undiminished even after 16 hours of driving and frequent stops for charging. The same could not be said for the rest of the family though. "The mood with my wife and kids was truly at rock bottom," he recalls with a grin.
After that, Van Bogaert continued to take long trips in the BMW i3 with the same enthusiasm. Since the end of 2018 though, its battery has offered twice the capacity of the first model thanks largely to a battery update offering a more user-friendly 300-kilometer range (➜ Read also: Some types of e-car). He would love to drive all the way to the North Cape in his current BMW i3s from the very last series and with the distinctive "Unique forever" lettering: "The charging infrastructure along the main transport routes is now well developed in Central Europe and particularly in the Nordic countries." Exactly when he will be able to fulfill this dream though is still open to question. One thing you can count on: Van Bogaert will do it.
The BMW i3 found more and more buyers over the years
The end of BMW i3 production this summer is painful for Van Bogaert: "Even after almost 10 years in production, the BMW i3 is by no means yesterday's news. This in itself is remarkable and down to its visionary concept. It is still superior to many new models today in areas such as lightweight construction, spaciousness, sustainability, and value." Many of the nearly 250,000 buyers to date would probably agree. This is because, unlike conventional models, whose sales figures fall off continuously over the course of their life cycle, they have steadily risen for the BMW i3 right up to the end of production. Salespeople are even currently seeing a run on the last few models being produced exclusively at the BMW plant in Leipzig using energy from three specially erected wind turbines (➜ Read also: Sustainability in every car BMW builds).
Van Bogaert therefore already predicts another career for the BMW i3 as a modern classic: "With its rust-free carbon body, long-lasting batteries, low-maintenance technology, and a shape that still looks futuristic, its fan base certainly shows no sign of shrinking."
Maybe future owners will then again experience scenes like the ones in 2013, when the first BMW i3 models whirring through the city even turned heads away from sports cars and SUVs. Those were the times that Van Bogaert also had some of his best moments as an automobilist: "The BMW i3 felt like a true pioneer at the time. It drew huge attention, especially from children and young adults. They liked the car, recognized the sustainable ideas behind it, and wanted to know all about electric mobility."