The BMW iX3: Between Design and Art
Blog
Jul 22nd, 2022
The aerodynamic wheels of the BMW iX3 are both a technological and an aesthetic first. Two internationally renowned artists worked on their design, adding their own ideas to the process: Spencer Mar Guilburt and Tonia Calderon. Although their designs aren't for sale, they do still have a lot to say about sustainability, art and design.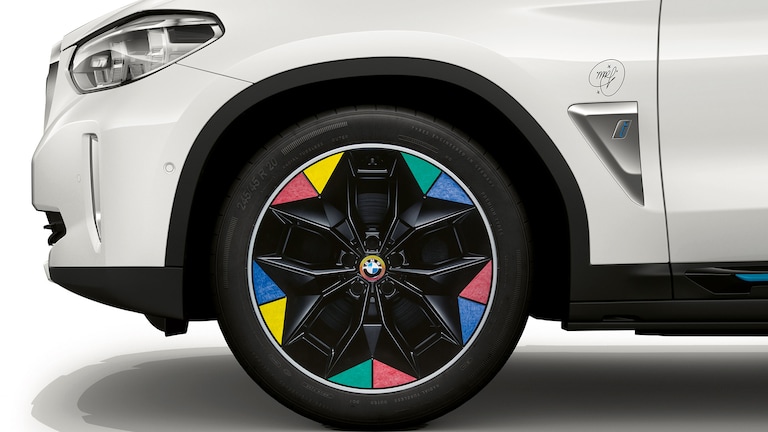 One could say that BMW has reinvented the wheel with the aerodynamic rims of the BMW iX3. An innovative design ensures that this 20-inch rim isn't just 15 percent lighter than the standard aerodynamic 19-inch rim, but also reduces fuel consumption. "This rim has an excellent aerodynamic coefficient, as it's very flat," explains Daniel Wechner, who as i Design project manager supervised the development of the BMW iX3. "There's hardly any air turbulence inside the rim, which is what makes it so efficient." In the all-electric vehicle, this special design is noticeable in its consumption: The top model of aerodynamic wheels gives the BMW iX3 a range-extension of up to ten kilometers.
The reduced use of material for the basic wheel combined with the lightweight inserts, which consist of plastic carriers with a visible, aluminum surface, not only optimizes efficiency but also driving dynamics. In addition, this enables resource-saving production, as no additional tools are required. The multitude of individual design options is another advantage of the rim that should not be underestimated. Thus, inserts with different surface designs can be placed on the base wheel, depending on the character of the vehicle, its equipment line, and individual customer requirements.
Spencer Mar Guilburt: BMW Art Car meets Wassily Kandinsky
Spencer Mar Guilburt lives in Los Angeles, where he's made a name for himself as a street artist with large-scale murals. At the last Art Basel in Miami, he created inspiring murals documenting it on various social media channels. Many of his paintings are characterized by bright colors, pop art elements and clear symbolism. His unmistakable signature can also be seen in the rim he designed. "Once the wheel is visually isolated from the tire and the rest of the car, it becomes clear that its shape is very sculptural," he says. "It's designed as if it belongs in a gallery. Painting on it is like decorating art with even more art."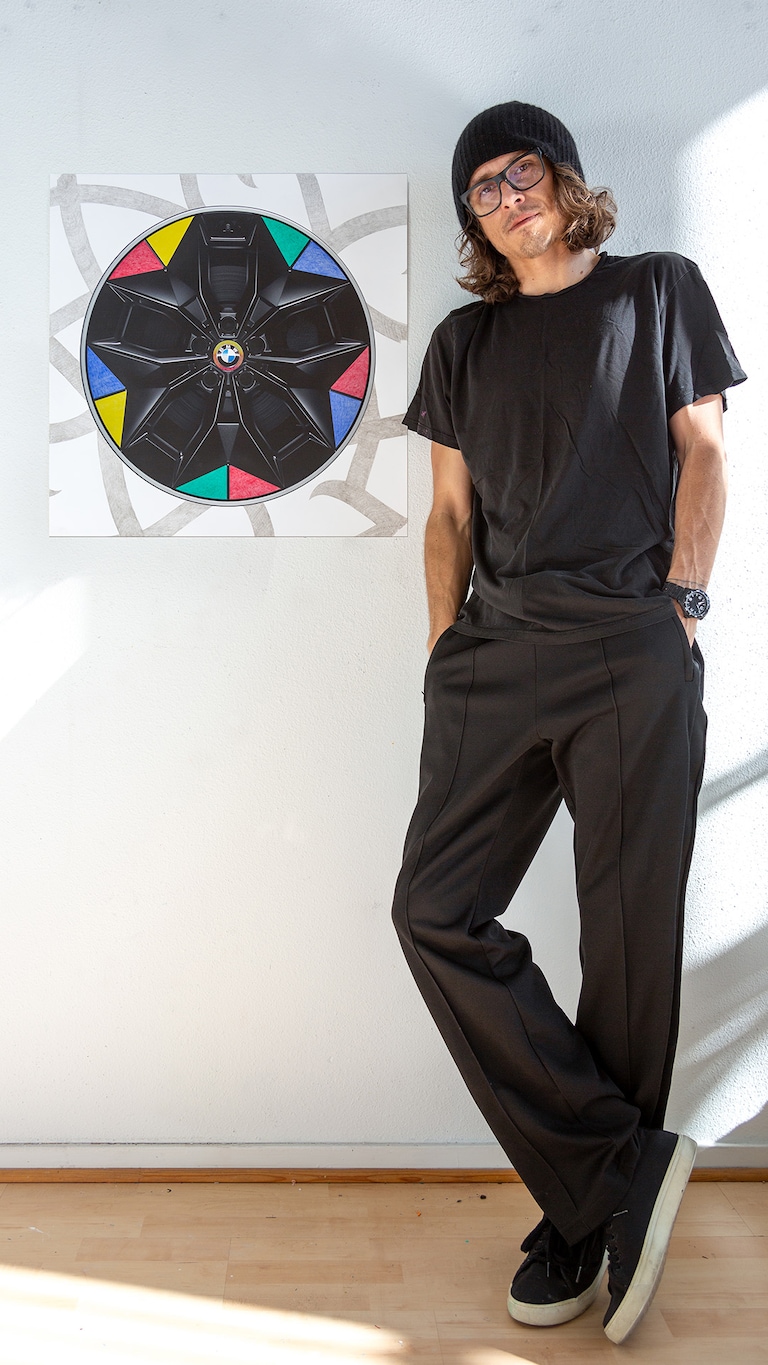 Nevertheless, he has accepted the challenge. The result is a work of art that was first digitally sketched, then printed onto archival paper with an inkjet printer. With that as his foundation, Guilburt then continued working with high grade colored pencils. "The pencils gave the smooth lines and finish of the wheel a bit more of a human element, and some really lovely texture", he said. "Hence my preference for them over that of paint on the occasion."
His inspiration came from Bauhaus master and painter Wassily Kandinsky, the founder of abstract painting Piet Mondrian and the BMW Art Car by Esther Mahlangu. "I felt a bit of a visual parallel between them," he says. As a painter, he felt that the classic Bauhaus leitmotif of "form follows function" was "still half applicable." The usefulness of a painting, however, was "quite esoteric," and the same needed to be true for its form: "Overall, I think it's a very elegant and concise summary of a design principle that has indeed helped to change design for the better."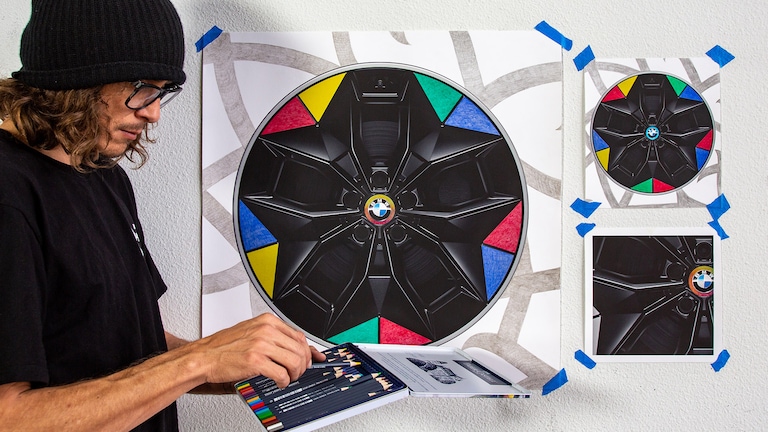 Tonia Calderon: form has to follow function
Tonia Calderon also lives and works in Los Angeles. Her work often uses infinite structures and surfaces that force the viewer to ask questions, feel and reflect. They're inspired by the personal life experiences, relationships, and the multicultural background of the artist, who has Mexican, Dutch, Indonesian, and Chinese ancestors. The collectors of her art include famous musicians like Alicia Keys, Dr. Dre, and Lady Gaga.
The artist was particularly impressed by the symmetry in the pattern of the aerodynamic wheel: "There's something eloquent about it that highlights the contrasts together, the soft, rounded lines next to the hard lines, the light and the dark – it's like life." She began by working out the existing pattern on a piece of matte paper with a photo of the rim and highlighting the existing shapes. "I wanted to add a dimensional layer without disturbing the art that was the original design," she says. Her association was the view through a kaleidoscope with the deconstructed shapes form a perfect circle. This is also reflected in the choice of material: "I used an oil-based paint to add extra layers of finely crushed glass."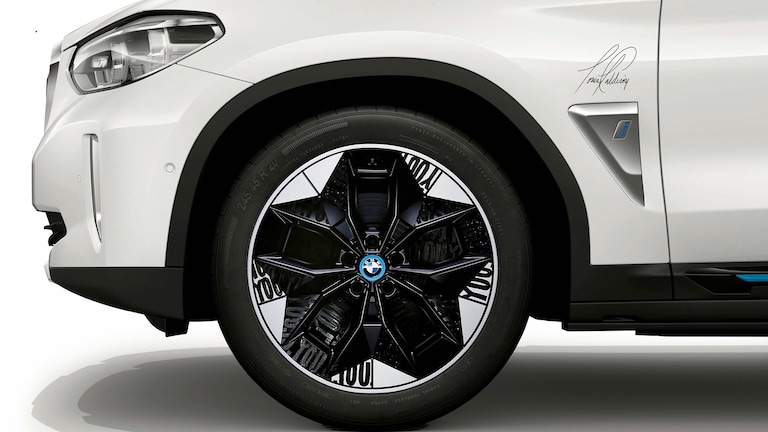 For Calderon, the lines between art and design are fluid. This becomes especially clear in her statement on "Form follows function": "Every work of art or design should always have a focus on function," she says. "It's important to think about the story we want to tell, the emotions we want to evoke and the purpose or symbolic meaning we want to share. If form doesn't follow function, we don't create art with compelling potential."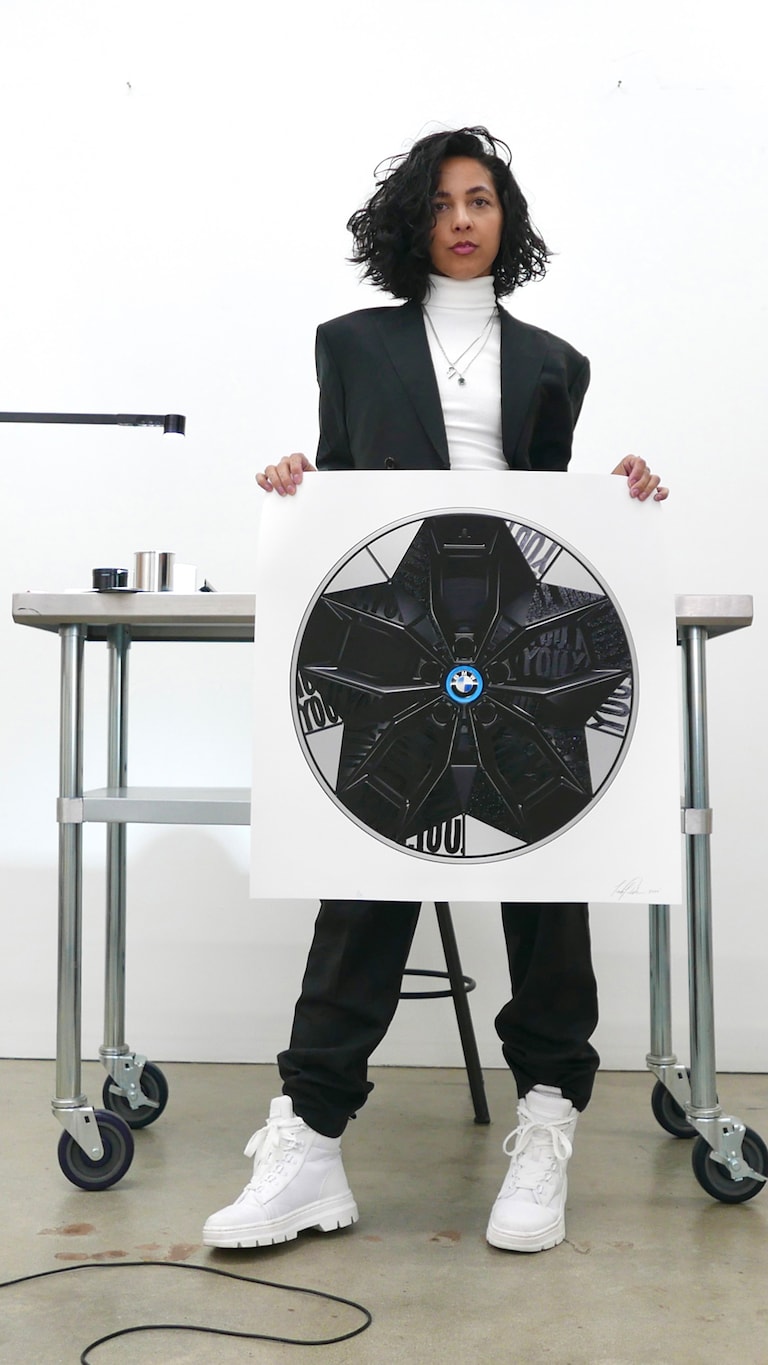 Sustainable design is essential
Both artists were particularly impressed by the sustainability of BMW's new aerodynamic wheel. "We often forget how important it is to shape the future we want to live in," says Calderon. "Sustainable design is essential for our health, community and environment." She was surprised to see how strongly committed BMW was to sustainability and what beautiful results it's yielded. Guilburt is pleased that the sportiness and luxury that BMW stands for hasn't been compromised, but instead, emphasized by the sustainable design: "It's one of the best."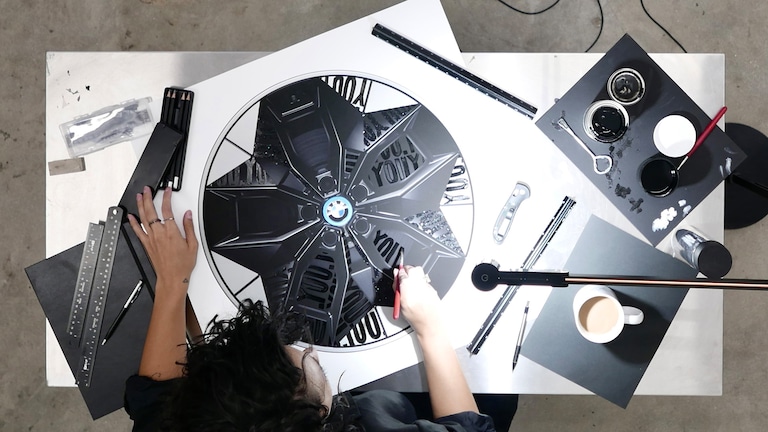 Photos: Tonia Calderon/Spencer Mar Guilburt; Author: Christiane Winter