The Joy of Pushing the Limit
Blog
Sep 16th, 2022
In the last week of September, a sense of excitement lingers in the streets of Berlin, getting the city ready for the BMW BERLIN-MARATHON 2022. As in previous years, the entire range of BMW Group electric models will accompany runners as lead and safety cars in this year's marathon as well. To capture the true spirit of this cheerful event, we asked Franziska Dittmann, the German model and nutritionist, who ran her first marathon in 2021, to share her experience with us about this incredible journey.

Dittmann graduated from nursing school, but only worked in a hospital for a year before deciding to follow her passion and start a career as a model. She has now been pursuing her dream profession for 14 years. During this time, she has developed a nutrition concept that enables people to achieve healthy weight loss, which she explains in her book: Modelsize.me. For Dittmann, running is not only a way to stay healthy, but also a chance to focus and reflect on herself.
A CALL TO AN ADVENTURE
Running a marathon had long been on the wish list for the Berlin-based author. When she decided to run a half marathon a few years ago, she got injured the day before and was therefore unable to participate in the half marathon or do the proper training for the real marathon itself and had to wait for another chance to cross it of her bucket list. In 2021, after collaborating with the BMW BERLIN-MARATHON as the official face of the communication campaign, the professional model was again inspired to run a marathon.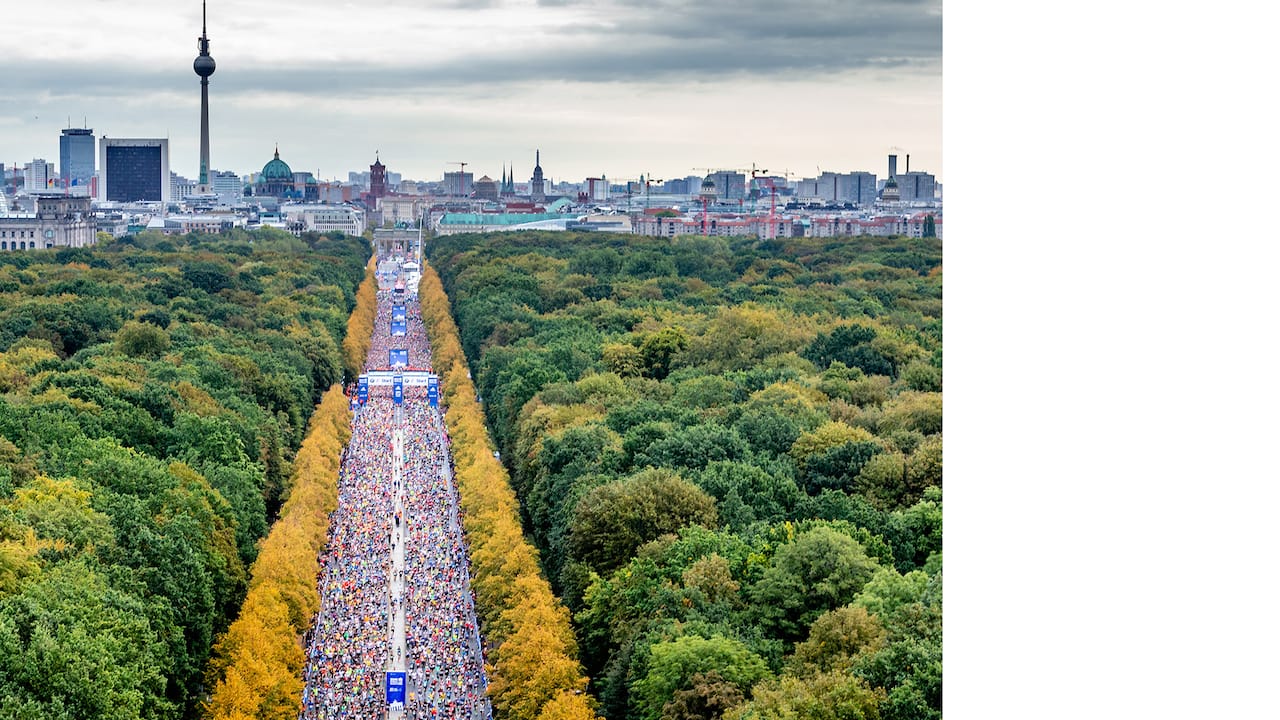 BEFORE THE MARATHON:
Dittmann has a free-time running routine, but running a marathon is different. She needed a proper training plan and didn't have a moment to lose. So, with the help of a friend, the 34-year-old model set up an intensive training program to prepare for the BMW BERLIN-MARATHON 2021.
Everything seemed to be going as planned until her story took yet another turn: A week before the BMW BERLIN-MARATHON 2021, Dittmann felt the pain in her knee again that had sidelined her last attempt. She decided to rest for a week before the race and focus on her diet, eating a healthy balance of carbohydrates and protein while avoiding alcohol. This eating plan prepared her body and mind for her next journey.
THE BIG DAY: JOY AT ITS HIGHEST LEVEL
Finally, she was there, standing at the starting line of the BMW BERLIN-MARATHON, surrounded by hundreds of runners. At the time, the energy of the event and the people happy to start the race influenced her style of running, but today, looking back at that moment, she has one piece of advice for any first-timers who may find themselves in the same situation:
Driven by the enthusiasm and euphoria of her fellow runners, Dittmann ran the first 21 kilometers full of energy, unaware that the hardest part was yet to come. At some point around kilometer 30, she felt that pain again. This is where the mind wants to give up but the body presses on.
TAKE A MOMENT, RECOVER, AND RUN AGAIN
So, this first-time marathon runner decided to stop at a rest station, where she was attended by a physiotherapist. The last kilometers became really hard, but there was hope, the end of the road was in sight: the Brandenburg Gate – the finish line.
Running a marathon is a character building exercise. Pushing your limits, staying focused and crossing the finish line. Dittmann's journey, with its ups and downs, did not end once she crossed the line. She can use this experience to inspire her for the rest of her life. To keep going and not giving up, to take a break and gather strength and to be aware of her capabilities even when it seems to be the lowest moment.